Allan Downey & Carlee Kawinehta Loft
Rotinonhsión:ni Ironworkers
On May 10, 2013, eighteen-hundred feet above the city streets of Manhattan, the crowning spire of the One World Trade Centre was erected marking the completion of the first of six towers planned as replacements for the buildings destroyed on September 11, 2001. Atop that tower stood the latest generation of Rotinonhsión:ni (Haudenosaunee) ironworkers to follow in the footsteps of Indigenous families who, for the last 140 years, have helped create some of North America's most iconic landmarks.
Beginning in the 1880s, the industry quickly became a principal source of employment for Rotinonhsión:ni men who traveled to jobs throughout Canada and the northeastern United States. By the 1920s Rotinonhsión:ni families, particularly from the Kanien'keha:ka (Mohawk) communities of Ahkwesáhsne and Kahnawà:ke, began relocating to Brooklyn where they opened a string of boarding houses and established the new community of "Little Caughnawaga." Significantly, Rotinonhsión:ni women played an integral role in the formation of this community as they acted as critical intermediaries operating boarding houses, working in factories, and assisting transient Indigenous workers from across North America. Together, ironworking and "Little Caughnawaga" became a nexus between Kanien'keha:ka family life, nationhood, and self-determination. Employing historical methodologies inspired by the field of Indigenous Studies and pulling together Indigenous talent from across multiple artistic disciplines, this digital animation attempts to showcase one piece of this incredible Indigenous history.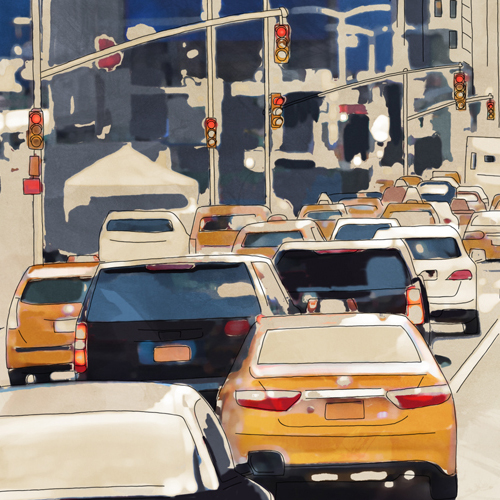 As the film thoughtfully explores the history of the architectural contribution of Indigenous ironworkers, it simultaneously delves into its inseparable bond to Onkwehón:we [Indigenous] self-determination and role in urban landscapes.
Artists are storytellers in their own right. To bring in their work and their connections to ironworkers [as we did in the animation] felt integral.
This whole project is attempting to be a resurgent history – a history for [and from] the Indigenous inside, for Indigenous people to tell their stories, and to serve as a launching point for future generations to continue the story and tell it in more elaborate ways.